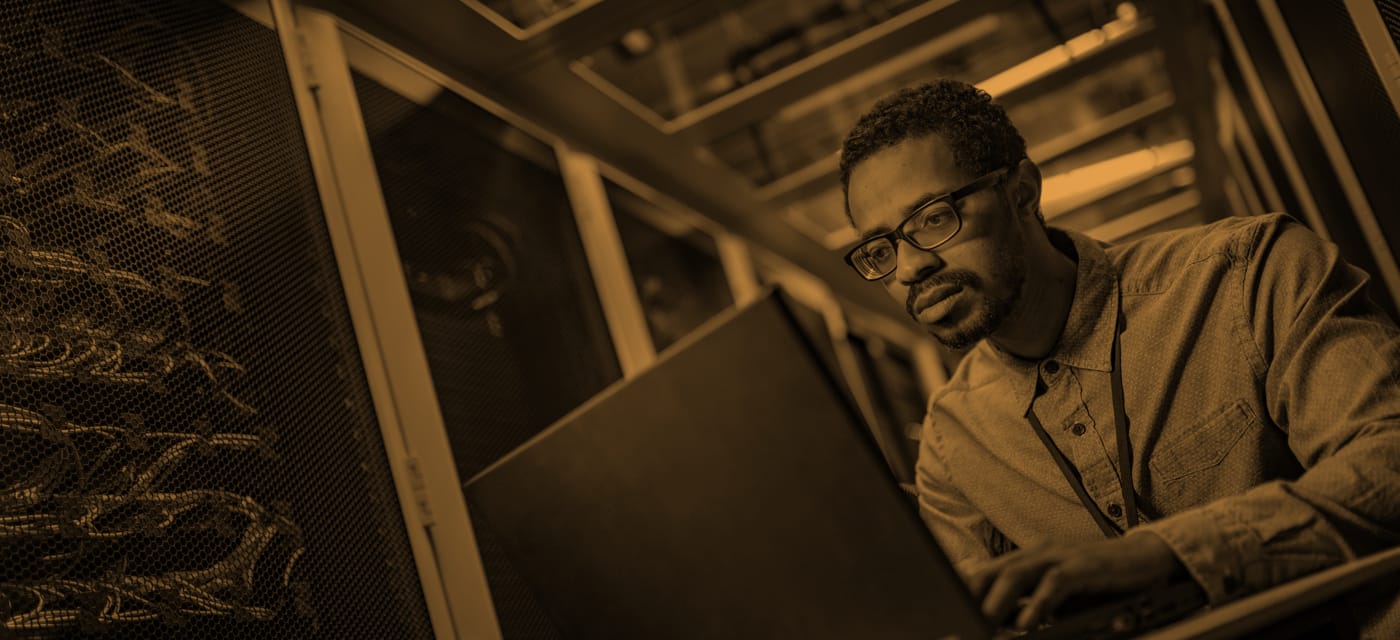 Healthcare Cybersecurity Program
Healthcare Cybersecurity Program
Cybersecurity is one of the fastest growing technology fields. Keeping information systems safe and secure is more important than ever, especially in the healthcare sector. Hospitals and clinics, medical labs, insurance providers, pharma companies and other healthcare organizations rely on cybersecurity to protect sensitive data.
To prepare you for exciting jobs in healthcare cybersecurity, Touro University Illinois offers a Post-Baccalaureate Certificate in Cybersecurity, with a Healthcare concentration. If you're in the field and want to enhance your skills, or if you want to see if a career in healthcare cybersecurity is right for you, take one of the cybersecurity micro-credentials we offer.
Combining theoretical and practical knowledge, our healthcare cybersecurity program gives you hands-on experience working with cybersecurity software, tools and systems. You'll also explore the essential concepts you'll need to master, such as how healthcare information is kept safe and secure, to be successful in this growing field. The skills and knowledge you gain from Touro's healthcare cybersecurity programs will prepare you to start or advance your career in cybersecurity, especially in the healthcare sector.
Is a healthcare cybersecurity certificate right for you?
From recent graduates to experienced professionals, students with cybersecurity certifications are well-positioned for an exciting, transformative tech career, particularly in healthcare. The skills you'll gain in our healthcare cybersecurity program are transferrable to any industry, but the program leverages Touro's strength in healthcare and medicine, as well as technology and business. This dynamic combination is unmatched by other cybersecurity programs across the country.
You can elevate your credentials and gain more growth potential with a post-baccalaureate certificate from Touro. This six-course, 18-credit cybersecurity in healthcare program is fully online and can be completed as quickly as six months. Our online cybersecurity certificate program focused on healthcare is a smart option if you are a:
Recent graduate with a bachelor's degree in information technology or computer science looking to kickstart your career in cybersecurity for healthcare
Experienced healthcare or technology professional who wants to take your career to the next level
Recent graduate and professional from an unrelated field with the interest and drive to make a career change to healthcare cybersecurity
Not sure if you want to commit to the certificate program right now?
Enroll in one of our credit bearing micro-credentials in either health security and privacy or network and cloud infrastructure security. What you learn in these classes will make your resume more attractive and if you decide to pursue the certificate the credits you earn in these micro-credentials can be applied toward the Post-Baccalaureate Certificate in Cybersecurity.
According to ZipRecruiter, the average healthcare cybersecurity salary across the United States is nearly $85,000 (August 2020). You may be able to earn a higher cybersecurity certificate salary depending on your location.
Healthcare Cybersecurity Program Highlights
As part of a worldwide university system, including New York Medical College, School of Health Sciences and Touro University Graduate School of Business, the healthcare cybersecurity certificate program builds upon Touro's global reputation and experience in the health and medical fields. These are just a few of the online program's highlights.
Flexible options to fit your needs. Attend live online lectures or access them as recorded and archived videos anytime, anywhere.
Hands-on experience using industry tools and best practices. Practice and experiment with tools used in the industry, such as Wireshark, Nmap, Netcat, AWS Console and Virtual Box, under the guidance and mentorship of technical experts. Leveraging Touro's worldwide relationships in the technology, business, health and medical fields, our cybersecurity certification program also offers opportunities for related internships.
Earn your cybersecurity certificate in as little as six months or a micro-credential in as little as four months. Graduate programs for cybersecurity degrees might take twice as long to finish. Our certificate program and micro-credentials are highly focused on cybersecurity and healthcare, so you can gain job-specific skills and knowledge — and get ahead in your career — in less time.
Highly qualified, experienced and engaging faculty. Our cybersecurity program faculty have extensive teaching and industry experience in the cybersecurity, healthcare and legal fields. With diverse expertise and interests, they hold multiple professional cybersecurity-related certifications, including Offensive Security Certified Expert (OSCE), Offensive Security Certified Professional (OSCP), Project Management Professional (PMP), Security+, Certified Information Systems Security Professional (CISSP) and Certified Ethical Hacker (CEH).
Academic advising to keep you on the right path. Available to answer any questions and help you succeed in your cybersecurity certification courses.
Get help paying for graduate school with financial aid. Currently, the Touro University System is offering a 25% discount to all students — new and returning — who enroll in the healthcare cybersecurity certificate program. Corporate discounts are also available.
Board-approved. Our cybersecurity certificate program is developed by cybersecurity and healthcare experts, a member of the National CyberWatch Center and fully approved by the Illinois Board of Higher Education.
What Can You Do With a Certificate in Healthcare Cybersecurity?
Touro's healthcare cybersecurity certificate program provides a pathway to master's degrees in technology-related fields, as well as career advancement with any organization that handles and processes public health information and personally identifiable information.
Cybersecurity certificate jobs are widely available for professionals with the advanced technical skills and knowledge to secure these sensitive records. Potential employers include hospitals and clinics, insurance companies, organizations at all levels of government, the military, nursing homes, medical labs and offices, and pharmaceutical, biotechnology or medical device companies.
Healthcare cybersecurity careers
Cybersecurity jobs are varied. With cybersecurity certification training from Touro, you may qualify for roles such as these:
Cybersecurity Specialist
Health Information Manager
Healthcare Solutions Architect
Information Systems Analyst
IT Auditor
Systems Administrator
Meet the Healthcare Cybersecurity Program Director
"The modern healthcare sector faces myriad cyber threats, and AI and machine learning present new opportunities for cybersecurity. It's an exciting time in the field! Touro University Illinois' innovative, online certificate program in cybersecurity for healthcare is at the apex of it all and teaches students the technical, legal, policy and ethical skills necessary to protect and defend this highly complex, information-intensive environment."

- Jenelle Hodges, PhD, Director, Cybersecurity in Healthcare Program.
Healthcare Cybersecurity Program Curriculum
Cybersecurity certification courses examine the technical aspects of healthcare cybersecurity. This includes computer and network security and survivability, cloud computing security, the impact of the Internet of Things (IoT) on the medical domain and the security implications of IoT devices, as well as incident response and recovery.
Emphasizing learning by doing, program courses in cybersecurity are hands-on and lab-oriented. Our project-based assignments build competencies and expertise in state-of-the-art cybersecurity tools such as Wireshark, Nmap, Netcat, John the Ripper, VMware/VirtualBox and AWS Console.
You'll start with an introduction to the healthcare sector and end with a deep dive into recent cybersecurity issues and attacks in healthcare. Integrated with the coursework are legal, regulatory, compliance and audit issues related to securely handling healthcare information, including how HIPAA affects healthcare cybersecurity, as well as questions of privacy and ethics.
The four middle courses of the online certificate program curriculum teach you knowledge and skills that are focused on healthcare but also transferrable to virtually any other industry. These are just a few of the cybersecurity certification courses you'll take:
Network Security and Survivability
The Enterprise Health Cloud (e-Health Cloud)
Internet of Things in Healthcare
Incident Response and Recovery
View the Post-Baccalaureate Certificate in Cybersecurity curriculum, or learn about our cybersecurity micro-credentials.
Schedule
Each 16-week semester has two 8-week terms and each course lasts 8 weeks, or one term. You'll register per term and can take one or two courses per term. For more information, visit the Touro University Illinois academic calendar.