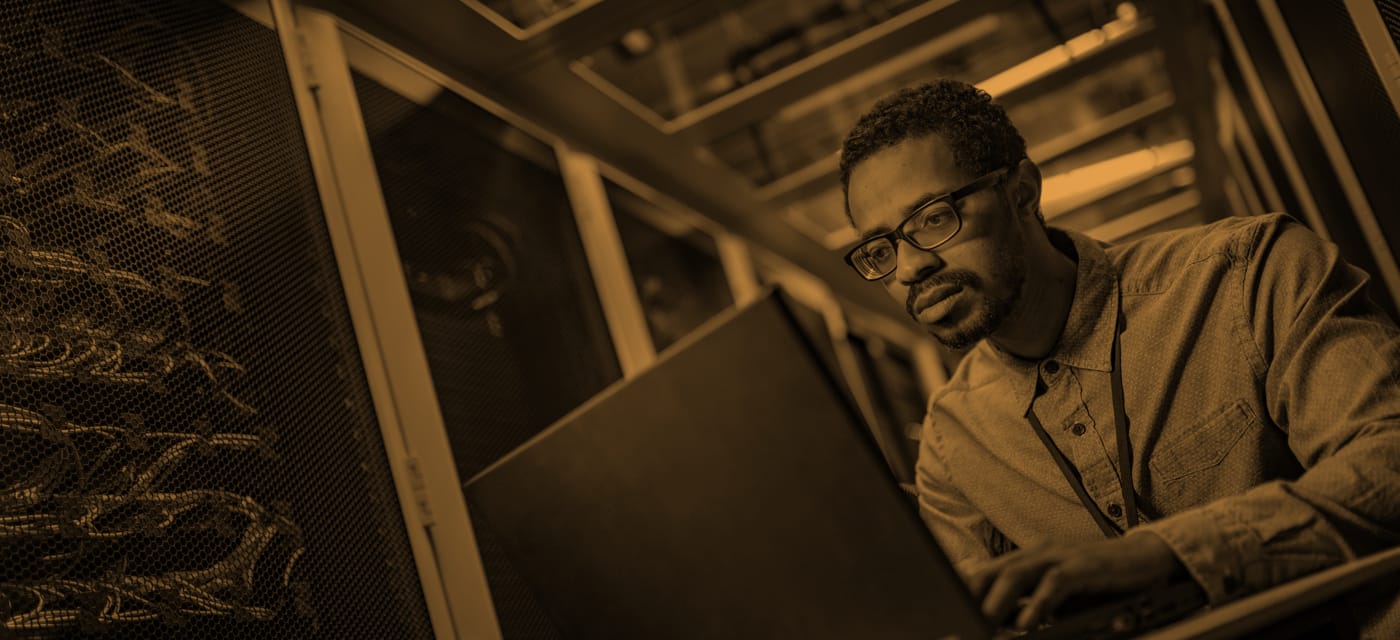 Cybersecurity
Healthcare Cybersecurity Certificate
Become a guardian of the modern healthcare industry.
New technology offers incredible opportunities for patients and providers. Faster appointments via telemedicine, smart medical devices like insulin pumps, and easier coordination between doctors thanks to electronic records, to name a few.
But it also brings new challenges, and keeping information systems safe is more important than ever. Learn to solve these challenges and help protect critical healthcare infrastructure.
Our six-course online Healthcare Cybersecurity Post-Baccalaureate Certificate program combines both theoretical and practical knowledge. In just one year, you'll be ready to begin — or advance in — an exciting healthcare cybersecurity career.
What You'll Learn
Our program offers advanced technical knowledge and hands-on experience.
You'll learn how to identify vulnerabilities, assess risk, and make recommendations. You'll be able to respond to and recover from cyber-attacks.
Your courses will cover the most pressing issues in healthcare technology, including:
Network security and survivability
The impact of Internet of Things (IoT) devices
Understanding Health Insurance Portability and Accountability Act (HIPAA)
Enterprise health clouds
Security, privacy, legal and ethical issues related to public health information
You won't just learn about the latest tools and technologies, you'll get to use them. You'll work with our 25 nursing home partners and other healthcare industry experts to gain real-world problem-solving experience.
What You Can Do With a Healthcare Cybersecurity Certificate
Once you've completed our certificate program, you'll be ready to work in cybersecurity roles across the healthcare sector. You might work in a medical office, hospital, laboratory, government organization — or for a pharmaceutical, biotechnology, or medical device company.
Cybersecurity and healthcare are both growing and in-demand fields. Potential jobs for graduates of our Healthcare Cybersecurity Certificate program include:
Information Systems Analyst
Systems Administrator
IT Auditor
Health Information Manager
Healthcare Solutions Architect
Cybersecurity Specialist
Is This Program Right For You?
Do you have a bachelor's degree in information technology or computer science? Or are you already working in healthcare technology and looking to take your career to the next level? Are you looking for a program that's technically intensive, but flexible enough to fit your busy schedule?
We welcome students from a range of backgrounds who are interested in pursuing cybersecurity work in healthcare settings. Foundational software or networking skills are required to succeed in the program. Interested in bridge courses? Let us know.
Work experience as a network or software administrator — or a bachelor's degree in a relevant field — is recommended, but not required.
If you have any questions about the program or our admissions requirements, don't hesitate to contact us.
Meet the Director
Program Director Joseph Giordano is a cybersecurity expert with extensive teaching experience. He previously worked at the Air Force Research Laboratory where he studied database technology, information security, information assurance, and cyber warfare.